Gutter Contractor in [city 1], [city 3], & Nearby
Expert gutter installation & replacement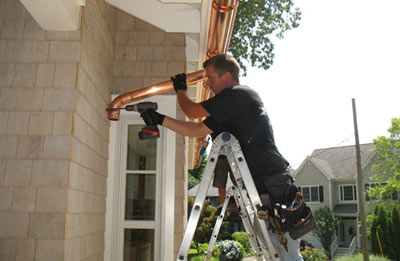 Water management: A well-designed, professionally installed gutter and downspout system will protect against erosion, plant damage, and basement flooding.
A fully functional gutter system is essential for preserving your home. Gutters that don't drain properly, clog, or overflow can cause costly damage to the roof and home.
A NO Dealers specializes in gutter and downspout services. We can prevent water damage as well as provide new gutters, downspouts, and gutter guards,
To learn more, schedule a free gutter and downspout service estimate today. We proudly serve [state] homeowners in [major cities 3], and nearby.
Choosing gutters & downspouts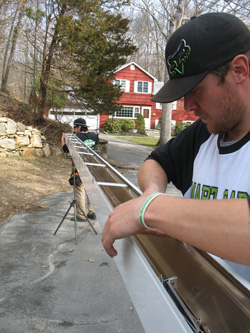 Custom made: Aluminum gutters can be tailored to fit the size and shape of your house. Our gutter-making machine is right on the truck and ready to use.
Old gutters may be too difficult and expensive to repair. That's why many homeowners decide to replace their old system altogether. There are now more gutter and downspout choices than ever. Here's what you should consider when picking a new gutter system:
Materials: While gutters come in a wide variety of materials, seamless aluminum gutters are still a favorite amongst homeowners for their low price, durability, and color variety. Gutter systems are also available in copper, vinyl, and steel.
Color: Are you looking for a gutter system to match your home? Most gutters come in a wide range of colors and finishes. Aluminum is highly customizable and can be painted to suit your style.
Style: Choosing the gutter shape or profile can impact how the system looks and functions. Aluminum gutters are often shaped into a "K" profile, which features a flat back and a curved front.
Size: K-style gutters are usually 5 and 6 inches. Larger sizes are available for especially large or steep roofs. An experienced gutter installer can recommend the right measurements for your home.
Gutter guards: Clogs can cause the system to overflow, which can lead to costly water damage to the roof and house. Gutter guards are a great addition that helps prevent leaves, twigs, and other debris from clogging your system.
Downspout extensions: Downspout extensions carry roof runoff away from the house. If necessary, they can extend out over the yard. Others can be buried into the ground to drain into a dry well or a daylight outlet.
Complete gutter services in [state]
Is your gutter system protecting your home from water damage? The gutter experts from A NO Dealers can spot rotted fascia boards, flashing issues, and other gutter damages. We also install new gutters, downspouts, and gutter guards.
Contact A NO Dealers to schedule a free gutter and downspout estimate. We proudly serve [state] homeowners in [minor cities 2], and nearby.
Looking for a price? Get a no cost, no obligation free estimate.