Expert Roof Repairs in [city 1], [city 3], & Nearby
Fast, reliable, & affordable roofing repairs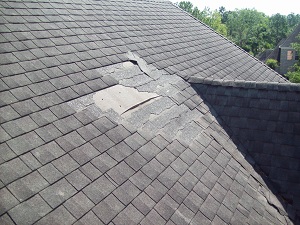 Roof Damage. Whether it's a damaged shingle or severe storm damage, you should repair your roof right away.
Is your roof showing signs of storm damage or aging? Are there leaks when it rains that come from the roof? These are just three of the many reasons homeowners come to us for essential roofing repairs. Ignoring roof issues can lead to permanent and costly roof problems later on. Timely roof repairs can prolong the life of your roof, create a better-looking home, and improve your overall property's value.
Not sure whether you need roof repairs? Don't wait – schedule a roof inspection with A NO Dealers today. We can identify roofing issues and recommend the repairs needed to preserve your home. We also provide free roofing estimates to [state] homeowners in [major cities 1], and nearby!
Roof repairs prevent future damages
Roof issues aren't always obvious. Storm damage can take months or even years to surface. Neglecting damage can create more complicated issues and put the rest of your home at risk. Putting off necessary roofing repairs can cause water intrusion, pest infestations, energy efficiency issues, and more.
Regular or periodic roof maintenance is a way to prevent high-cost repair in the future. While you may notice loose, curled shingles or obvious damage to a part of your roof, many signs of roof damage and wear-and tear are invisible. A hidden leak under shingles, flashing damage around chimneys, and missing granules on shingles may not be visible without a close-up inspection. Moisture damage in a section of wet underlayment can grow and, when finally discovered, cost more to fix. Periodic roof inspections are a cost-effective way to maintain your roof and extend its life. Repairing your roof at the first sign of potential damage also minimizes your roof repair costs over time.
So whether there are missing shingles, hail damage, or roof leaks, A NO Dealers fixes these problems and protects your roof from future issues with thorough roofing repair services. We can inspect your entire system, assess the condition of asphalt shingles, evaluate the structure, and recommend the roof repairs your home needs – nothing more or less.
Signs of roof damage:
Wood rot on the roof
Damaged roof flashing
Mold & algae stains
Missing & broken shingles
Water spots on interior ceilings & walls
Sagging roof deck
Granule debris in gutters
Peeling exterior paint
Higher energy bills
And more!
Common roof issues
Wood rot is one of the most common types of roof damage. While your entire roof is vulnerable to wood rot, areas near the roofline and the overhang are the most exposed – including the soffit and the fascia. Birds and pests cause further damage by nesting in the soffit and other soft spots caused by wood rot.
Hail damage can also have a significant impact on your roof, leaving behind dents and dark spots. Shingles damaged by hail will allow water to leak into the home, causing further roof issues as well as damage to the home's interior walls and ceiling.
We offer roofing repair to help with these roofing problems:
Wind damage
Damage from trees
Hail & storm damage
Damaged shingles
Rusted or broken vent boots
Damaged gutters & downspouts
Damaged chimney flashing
Roof Leaks
Roof flashing
Improper roof ventilation
Wood rot on new roofs
And more!
Trust us to provide all your roofing services
As a certified roofer serving [territory], our commitment to you is to deliver superior roofing services, install quality roofing materials, and provide excellent customer service. Our goal is to be your roofing services contractor for the long haul. When you're looking for reliable roof repairs, you need to rely on a contractor that you can trust. At A NO Dealers, we provide our expert craftsmanship and quality roofing materials for just the right price.
Not sure whether your roof needs to be repaired or replaced? We offer roof inspections and free service estimates to [state] homeowners in [minor cities 3], and areas nearby.
Looking for a price? Get a no cost, no obligation free estimate.